RACE INFORMATION
General
Run this classic footrace to the top of Kendall Mountain and back to Silverton! Or choose the "K2″ Double for twice the challenge.
Date
Saturday, July 20, 2013
Start Times
8AM Start for both events
Location
Start: 12th Street & Green
Silverton, CO 81433 Map
Finish: Memorial Park
Course Summary
The course follows the Kendall Mountain jeep roads to within a 250-foot scramble to the summit. Ascend from 9,318 feet to 13,066 feet atop Kendall Mountain; Descent follows same course. "K2″ Double runners will pass through Memorial Park before heading back up for their second trip up the mountain.
Weather
Forecast for Silverton, CO
Bib / Shirt Pickup
Friday, July 19
2:00 – 5:00PM
Smedley's Ice Cream Parlor
1314 Greene Street
Silverton, CO 81433
-or-
Saturday, July 20
7:00 – 7:45AM
Smedley's Ice Cream Parlor
1314 Greene Street
Silverton, CO 81433
Aid Stations
There will be two aid stations along the course. The aid stations will feature water, carbohydrate drinks, fresh fruit and other snacks. Aid Station Helper Form

Race Perks
Technical fabric race shirt (Men's & Women's styles)
Chip timed race results displayed at the finish line
Barbecue in Memorial Park at the finish
You're in Silverton, what else do you want!?!
Barbecue
There will be a barbecue in Memorial Park at the finish line for all runners, family and spectators. All entrants will receive a ticket for one meal after the race.  Additional meal tickets may be purchased at packet pickup at Smedley's or at the park on race day.
Awards
Unique, locally made awards (in Silverton) by Ken Webb of Quiet Bear Art will be presented to:
Overall 1st-3rd place male & female for the Kendall Mountain Run
Overall 1st place male & female for the "K2″ Double
1st place male & female Silverton residents
1st place age groups male & female Kendall Mountain Run (<20, 20-29, 30-39, 40-49, 50-59, 60-69, >70)
REGISTRATION
Entry Fees
| | | | | |
| --- | --- | --- | --- | --- |
| | Until May 24 | Until June 21 | Until July 16 | Race Day |
| Kendall Mountain Run (12 Miles) | $35 | $40 | $45 | $50 |
| "K2″ Double (24 Miles) | $55 | $60 | $65 | $70 |
Online registration closes July 16 at midnight. Registration will be available at packet pickup on Friday, July 19 or race morning at Smedley's.
Registration Options
Online through Ultrasignup
Mail-In Entry 
COURSE INFORMATION
Race Distances
We have re-measured the route (same course) and are updating the distances for 2013:
Kendall Mountain Run = 12.0 Miles with 3,748 feet of climbing
"K2″ Double = 24.1 Miles with 7,496 feet of climbing
Course Maps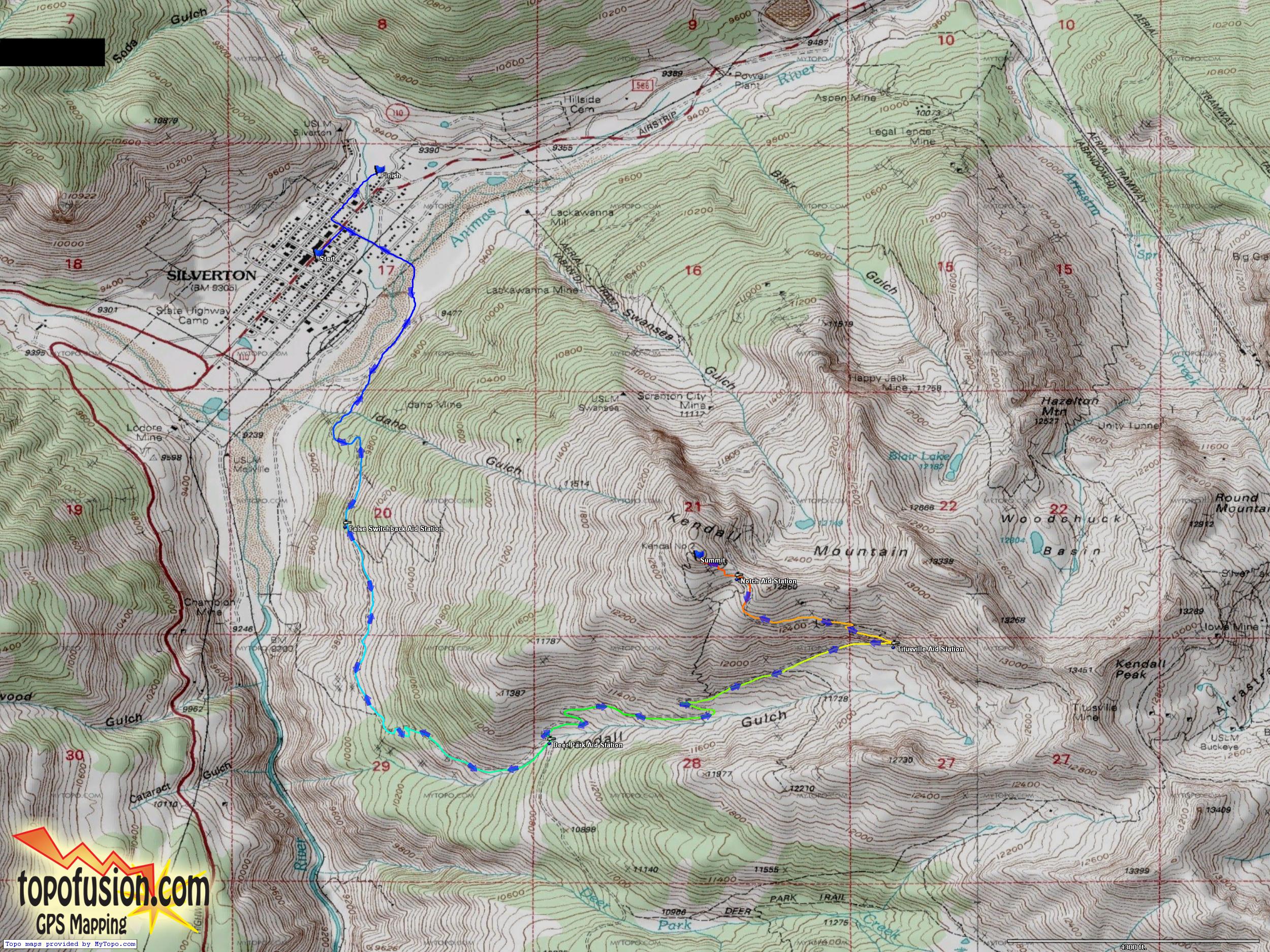 Kendall Mountain Run | Topo | Color | .KML | .GPX
"K2″ Double | Topo | Color | .KML | .GPX
(To download .KML or .GPX files, right click and select "Save Link As…"
Elevation Profile
Course History
Conquering Kendall
[copied, with permission, from The Silverton Standard and the Miner, July 21, 2011]
*An earlier rendering of the dash up the mountain during Silverton's boom
days — in August 1908 to be precise — predates the modern day version of the
race.
On Monday, August 24, 1908, miner Neil McQuieg raced to the top of
13,066-foot Kendall Mountain and back to town on a bet that he could do it
in less than an hour and a half. He lost the bet, but only by a minute and
42 seconds.*
By David Swanson
With its revival in 1978, the Kendall Mountain Run has built up quite a
tradition and reputation.
Kendall, as it's affectionately referred to by certain masochistic types, is
a foot race which entails an ascent and decent of Kendall Mountain,
overlooking Silverton.
Beginning in front of the Grand Imperial Hotel the course follows a steep
Jeep road that winds its way up the mountain, ending on the back side, and
within 350 feet of the summit. From there, runners are required to do their
best mountain goat imitation —minus the bleating — and scramble to the
summit, touch a shepherd's staff at the top and then descend in a mad
scramble back down the mountain and into town.
An earlier rendering of the dash up the mountain during Silverton's boom
days — in August 1908 to be precise — predates the modern-day version of the
race. At that time, a casual conversation between a Silverton saloon owner
named Jack Slattery and a man named Charlie Worden took place. The
conversation drifted to mountain climbing and Worden mentioned to Slattery
that he knew a man who could ascend and descend the mountain in an hour and
a half.
A $200 bet was wagered and word soon spread throughout Silverton sporting
circles. Additional bets were placed and on the morning of Monday, Aug. 24,
1908, the contest was set. Worden chose as his man to achieve the feat Neil
McQuieg, a miner who worked at the Frank Hough Mine, high on Engineer
Mountain above Animas Forks.
McQuieg, 53 years old at the time and a man of small build and stature,
started straight up the face of the mountain at 10:45 a.m., reaching the
summit in one hour, seven minutes and 40 seconds — an amazing athletic feat
even by today's standards, and truly superhuman at that time. Despite
getting lost twice during the descent, McQuieg still managed to blast his
way back into town in one-hour, 31 minutes and 42 seconds.
Slattery had technically won the bet, but those present at the time raved
about the fact they'd just witnessed the setting of a remarkable athletic
record. But as the saying goes, "records are made to be broken," and this
one was no exception.
On Labor Day of that year, in response to heavy betting on his claim that he
could better McQuieg's time, Myron McWright, a 21-year-old Scotch Canadian
miner, tackled the mountain in 1:27:25, beating the record by over four
minutes.
Legend has it that McWright was one of those strange types who was always
trying to improve on things, so consequently he was not happy enough with
his time. Four days later he attempted to break his own record.
The historical record also shows that McWright tried to set his new record
on a rainy Friday afternoon in response to a wager of $60. Being a
spur-of-the-moment decision, McWright tried to pull off the feat under
highly adverse conditions. Rain was falling in the valley, snow falling
above timberline, nightfall was fast approaching and McWright was in a
slightly inebriated state from his saloon socializing that afternoon. These
were generally not the ideal conditions for attempts to break an athletic
record.
Predictably, McWright's undertaking to cheat the devil backfired on him when
he failed to return to town by 8 p.m. A rescue party was organized and an
all-night search resulted in the finding of McWright's body just below the
summit.
On the way down he apparently tripped and fell over a cliff, striking his
head on a rock and was killed by either early September exposure to the
elements or the fall itself. No one is sure precisely what led to his
demise.
This tragic turn of events led to the sport of running up and down Kendall
Mountain taking a 60-year hiatus. No doubt curiosity and temptation got the
better of some athletes, and attempts to break the record may have taken
place during the intervening years, but historical records are sketchy or
nonexistent.
Finally in October of 1975, Rick Trujillo of Ouray, one of the most famous
modern-day mountain runners in this (or any other part) of the world
attempted to break the records of McQuieg and McWright.
Using a route that closely followed that of those two, Trujillo shattered
the record, completing the trip in 1:23:07. Trujillo's record for that full
frontal assault of the mountain still stands to this day. The modern day
annual race does not go up the front face, but follows a steep Jeep road
which winds its way up and around the mountain.
The current version of the race should be credited to attorney and running
enthusiast Bill Corwin.
Inspired by the feats of Trujillo and by his own experiences running the
Pike's Peak Marathon, Corwin originated the idea for an annual foot race up
the mountain in 1978. The first year it was held, the Kendall Mountain Run —
to no one's surprise — was won by Trujillo in 1:40:01. The modern day course
record is held by Sheldon Larsen, a lightning quick ascent and descent of
1:35:07 achieved during the 1985 race.
In the 33 years the modern day race has been run, a number of unique
features make it stand out. The sheer beauty of the course itself is a
notable characteristic, with stunning views of the back side basin of the
mountain as competitors catch the early morning sunlight during their climb
up the mountain.
Additionally, mountain wildflowers matching every color in the rainbow can
be found in gaudy profusion during the climb up and back down.
The road to the summit, once it hits the back side, becomes extremely steep
— so precipitous that more than a few competitors begin to wonder whether
that time they fell off the refrigerator at age 5 really did have a
deleterious effect upon their mental state.
The 350-foot hands-and knees scramble to the summit once the road ends also
adds to the uniqueness of the race. Competitors have also been heard
swearing under their breath as they scramble their way up this part of the
course.
Once the runner has crossed the finish line in town, a BBQ picnic awaits
them post-race. The lunch was first established in the mid-1980s and
continues to the present. It's definitely a big incentive for many runners
to get down the mountain as fast as possible — thoughts of that first bite
of cheeseburger floating through their heads as they rip their way down the
mountain.
Whenever this author is asked if he'll ever run the Hardrock Hundred or any
other similar mountain ultraendurance suffer-fest, he always give the same
pat answer. "No, I think I'll stick to the 'easy' stuff —like Kendall."
Hardly.
Author: David Swanson is a resident of Silverton. He finished the Kendall Mountain
Run in a time of 2:55:36 on Saturday, July 16.
RESULTS
2013 | Kendall Mountain Run | K2 Double
2012 | Kendall Mountain Run | K2 Double
Previous Years | Kendall Mountain Run | K2 Double
Course Records:
Kendall Mountain Run
1:34.55 Sheldon Larson (1988)
1:58:45 Mallory Kneller (2008)
Kendall Mountain "K2″ Double
4:09:26 Erik Skaggs (2013)
4:38:15 Keri Nelson (2010)
PHOTOS
2013 | Aravaipa Photo Gallery
2012 | Aravaipa Photo Gallery | Ray Dileo | Criss Furman | Rachel Iacomacci | Anthony Culpepper
2008
VIDEOS
RACE DAY INFORMATION
Race Day Schedule
Saturday, July 20, 2013
6:30 AM Race day packet pickup & registration at Smedley's
8:00 AM Race start at 12th & Greene
11:00 AM Barbecue at Memorial Park
12:00 PM Awards for the Kendall Mountain Run
Cut-Offs
All runners competing in the "K2″ double must begin their 2nd trip up the mountain by 12pm (4 hours into the race).
Overall cutoff for "K2″ is 4pm (8 hours).
Race Timing
We will be utilizing a chip timing system at this event to record your time after each loop completed. Results will be posted using "gun time" only. You will be provided with a timing chip attached to the back side of your race bib. Please do not fold the area of your race bib where the timing chip is attached.
Parking
Parking will be available in Silverton.
Camping
There are several places to camp around Silverton.
Lodging
Check out lodging options over at Silverton Special Events
Restaurants
Check out the restaurant options at Silverton Special Events
Volunteers
Want to be apart of Silverton Alpine Running events this summer as a volunteer or helper? You will get a race shirt, food on race day and a discount off future events. Volunteer Signup Form