This event has been discontinued for 2014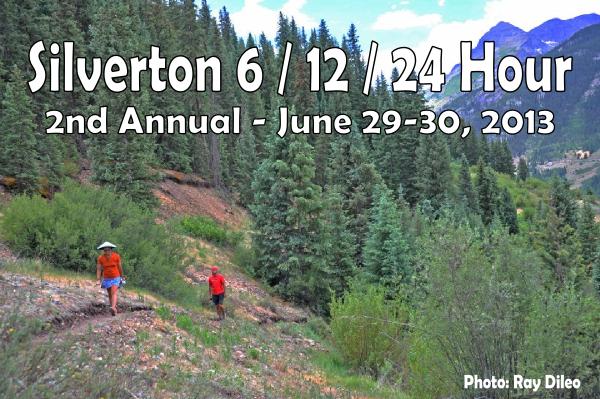 RACE INFORMATION
Date
Saturday, June 29 – Sunday, June 30, 2013
Start Times
8AM Start: 24 Hour, 12 Hour Day, 6 Hour Day
8PM Start: 12 Hour Night, 6 Hour Night
Location
Kendall Mountain Recreation Area
1 Kendall Place
Silverton, CO 81433 Map
Course Summary
The start / finish line will be inside of the large 30 by 60 foot white event tent at the base of the ski hill.  The course is a 1.00 mile trail loop to the top of the ski hill and around the beaver pond featuring 250 feet of elevation gain & loss per loop. Runners will switch directions every 3 hours to keep things fresh. Remember, this is a high altitude event that starts at 9,318 feet!
Races
There are 5 events to choose from: 24 Hour, 12 Hour Day, 12 Hour Night, 6 Hour Day and 6 Hour Night.
Race Format
This is a fixed time "go as you please" style running event.The goal being to run as many laps of the course as you desire in the amount of time you are racing for. While these types of events are often held on flatter courses designed for maximum mileage, the Silverton 6/12/24 is designed for maximum toughness and maximum hurt.  You can still take breaks as little or often as you'd like and there is no minimum number of laps to complete in your given race time limit. No partial laps will be counted.
Weather
Forecast for Silverton, CO
Bib / Shirt Pickup
Friday, June 28
2:00 – 5:00PM
Cafe Mobius
12th Street & Greene
Silverton, CO
Aid Station
There will be one aid station inside of the large event tent that will be accessible each loop. The aid station will feature water, carbohydrate drinks, fresh fruit, salty snacks, sweet snacks, and several meals throughout the day and night. Aid Station Helper Form
Race Perks
Technical fabric race shirt (Men's & Women's styles)
Chip timed race results displayed at the finish line
Made to order food at the aid station
You're in Silverton, what else do you want!?!
REGISTRATION
Entry Fees
| | | | | |
| --- | --- | --- | --- | --- |
| | Until May 3 | Until May 31 | Until June 25 | Race Day |
| 24 Hour | $70 | $75 | $80 | $90 |
| 12 Hour (Day or Night) | $55 | $60 | $65 | $75 |
| 6 Hour (Day or Night) | $40 | $45 | $50 | $60 |
Online registration closes June 25 at midnight. Registration will be available at packet pickup on Friday, June 28 or race morning at Kendall Mountain Recreation Area.
Registration Options
Online through Ultrasignup
Mail-In Form
COURSE INFORMATION
Elevation Profile

Course History
1 mile loop on trails and dirt roads (measured with Rolatape 600 Series Surveyor's wheel)
250 feet of gain & subsequent loss per loop
500 feet of total elevation change per loop
Trail sections custom built in 2010 specifically for the Silverton 1000
Course also serves as a nature trail for the Town of Silverton
 RESULTS
2013 | 24 Hour | 12 Hour | 6 Hour | Splits
2012 | 24 Hour | 12 Hour | 6 Hour | Splits
PHOTOS
2013 | Aravaipa Photo Gallery | Ray Dileo
2012 | Aravaipa Photo Gallery | Ray Dileo
Course Photos | Silverton 1000 Course Photos 
RACE DAY INFORMATION
Race Day Schedule
Saturday, June 29
7:00 AM Packet pickup at white tent
8:00 AM Race start (24 hour, 12 hour day, 6 hour day)
2:00 PM 6 hour day race end
8:00 PM Race start (12 hour night, 6 hour night) & 12 hour day race end
Sunday, July 1
2:00 AM 6 hour night race end
8:00 AM All remaining races end (24 hour, 12 hour night)
8:30 AM Awards
Race Timing
We will be utilizing a chip timing system at this event to record your time after each loop completed. Results will be posted using "gun time" only. You will be provided with a timing chip attached to the back side of your race bib. Please do not fold the area of your race bib where the timing chip is attached.
Runner Setup Areas
We will have full use of the 60 by 30 foot white tent for the event, so please feel free to setup your personal race supplies inside as room permits.  We will have some tables and chairs available for use, but will be on a first come first serve basis.  You are also welcome to set up outside the large tent along some of the lower portions of the course.
Parking
Parking will be available at Kendall Mountain Recreation Area.
Camping
There are several places to camp around Silverton and there will be camping available at the race site Friday and Saturday nights.
Lodging
Check out lodging options over at Silverton Special Events
Restaurants
Check out the restaurant options at Silverton Special Events
Volunteers
Want to be apart of Silverton Alpine Running events this summer as a volunteer or helper? You will get a race shirt, food on race day and a discount off future events. Volunteer Signup Form