RACE INFORMATION
General
Celebrate the Fourth of July with the Silverton Blue Ribbon Run!  Scenic course starting in Memorial Park and running along the Animas river.  Distances of 2k, 5k, and 10k.
Date
Wednesday, July 4, 2018
Start Times
8:00 AM – 10k, 5k, and 2k Begin
Location
Start / Finish at Memorial Park
Greene & 18th Street
Silverton, CO 81433
Course Summary
All courses are out and back starting and finishing at Memorial Park.  Start by taking the dirt road north out of Memorial park.  The 2k turnaround is at the junction with Highway 2/110.  Continue across the highway and take left to run past Silverton Lakes campground.  Join the highway for 0.9 kilometers then take a right onto a dirt road.  5k turnaround is at the bottom of the decline.  The 10k course continues on this road, crossing the Arrastra creek turnoff but staying alongside the Animas river.  2.5 kilometers after the 5k turnaround, the 10k course turns around.
Weather
Summer temperatures range from high 30's to low 80's. Morning weather is generally calm but can include rain so be prepared.
Forecast for Silverton, CO
Bib Pickup
Wednesday, July 4
6:30 AM – 7:25 AM
Memorial Park
(Race Day registration will be available)
Aid Station
Aid stations with water will be available at the 5k and 10k turnaround points.
Awards
All participants will received a finisher's ribbon to commemorate their July 4th run!
Volunteers
If you are interested in volunteering for the race, please talk to Julie Danjou (jdanjou@silvertonschool.org).
REGISTRATION
Entry fee: $20-30
Online registration closes July 1st. Registration will be available Saturday (6:30am-7:25 am) at Memorial Park.
Registration Options
Available race day!
COURSE INFORMATION
10k Course
5k Course
2k Course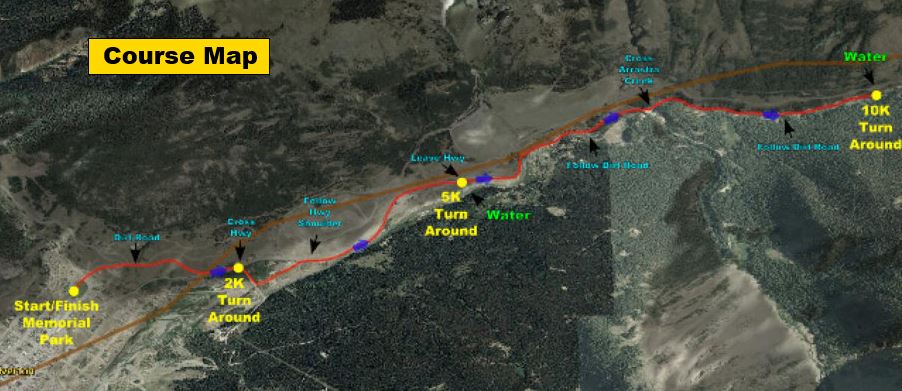 RESULTS
2018 |  Results
2015 | 10k | 5k | 2k
2014 | 10k | 5k | 2k
2013 | 10k | 5k | 2k
2012 | 10k | 5k | 2k
2011 | 10k | 5k | 2k
2010 | Results
PHOTOS
RACE DAY INFORMATION
Race Day Schedule
July 4
6:30 AM Packet Pickup & Race Day Registration at Memorial Park
7:30 AM 10k, 5k, 2k Start
Race Timing
We will be utilizing a chip timing system at this event to record your finish time. Awards will be given by gun time (first across the line) and results will be posted using chip time. You will be provided with a timing chip attached to the back side of your race bib. Please do not fold the area of your race bib where the timing chip is attached.
Parking
Parking will be available in Silverton next to the park and on main street (Greene).